No, no, we don't have the new DirecTV TiVo that both companies have been promising for more than two years now. But we do have the old one, the DirecTV HR10-250.
The DirecTV HR10-250 was, when it was initially released, the first HD TiVo, and pretty much the first HD DVR on any platform. It's a great unit, and it works perfectly with OTA (over the air) antenna signals for pretty much the best quality HD broadcast streams available.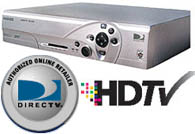 The big issue with the HR10-250 is that it can only decode MPEG2 channels from a DirecTV dish. So, while it will get almost all standard definition channels that DirecTV supplies, it won't get any HD signals from DirecTV. They've migrated their HD channels to the MPEG4 format, and this unit just can't read those.
But the DirecTV HR10-250 TiVo can receive, in HD, OTA signals, the signals that your local broadcaster sends out. Because the FCC gave local broadcasters so much bandwidth, these companies barely compress their signal at all (much less than DirecTV) and this results in the best quality HD broadcast available. We routinely compared recordings from OTA and DirecTV back when this unit could get DirecTV HD, and the OTA was always vastly superior.
So the HR10-250 can get HD from local broadcasters, and standard def local and premium channels from DirecTV. And, best of all, it's a TiVo. That combination works for many people (myself included) and, until (or "if") the new, promised unit ships, this is the best mix of interface and programming.
We now have a page dedicated to purchasing this unit from us, refurbished. See our DirecTV HD TiVo page for more info.