We're very, very happy to say that we have limited stock of the TiVo Stream at the moment.
These units are refurbished.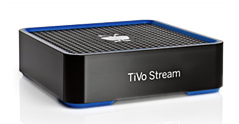 The TiVo Stream is the ONLY way to get shows to stream to an iOS or Android device from a TiVo Premiere (any model Premiere) or from a TiVo Roamio and Roamio OTA (Plus and Pro models do not need the TiVo Stream).
If you have a Roamio OTA, for example, and you want to copy shows to your iPad for a trip, this is really the perfect solution. You just plug it into the same wired network that your Roamio or Premiere is on, add it to your TiVo.com account, and then you can either watch shows via the TiVo app, or even copy them to the app if you are on the same Wifi network.
See the TiVo Stream page on our website! And act fast – quantities here are most definitely limited.