IMPORTANT UPDATE!
This promo ONLY applies to existing TiVo customers. You must have an active unit on a TiVo.com account to qualify for this special pricing.
TiVo is offering a great deal for purchasers of WeaKnees TiVo Bolt DVRs: $200 off the All-in one-time TiVo service fee! "All-in one-time TiVo service" is the new name for TiVo Product Lifetime Service.
So if you buy any TiVo Bolt from WeaKnees, you can add All-in one-time TiVo service for $400 instead of the normal $600! This includes our upgraded units!
To make this work, you'll need to pay for All-in service when you activate your Bolt – not after the included year of service. You can call TiVo to pay your All-in service fee and mention promo code "TiVoInstall200."
At this time, you cannot use this promo code online: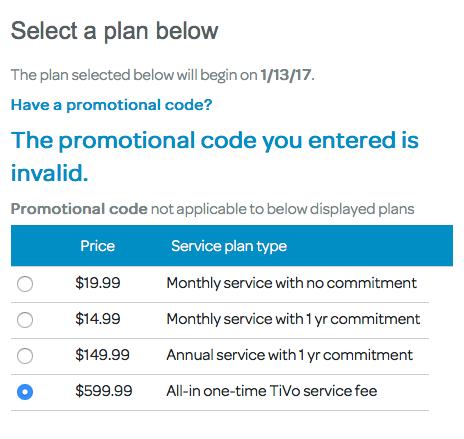 Order your TiVo Bolt from WeaKnees today with 500 GB to 8 TB of storage space.
This offer expires 4/18/16.