We've been getting this request more and more: customer has an older, non-HDMI TV, and wants to use a streaming stick or player, like an AppleTV or an Amazon Fire Stick, that only has an HDMI output.
So we sourced a solution. It's an adapter that converts HDMI to RCA (red/yellow/white composite) output. Frankly, this wasn't easy. There are a TON of these adapters out there, and our testing showed that many (maybe even most) don't work. Some work, but aren't bright. Some work, but only with certain sticks and players. Some work, but have bad image quality.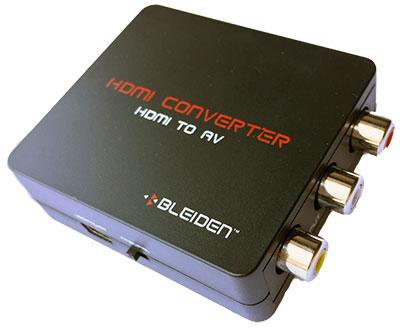 Anyway, we tested and tested, and now we're selling these adapters that really truly work in every situation we could throw at them.
Here is our page of HDMI to Older TV Video Adapter configurations.
These work for:
AppleTV
Amazon Fire
Amazon Fire Stick
Roku Player
Roku Streaming Stick
Google Chromecast
Laptops with HDMI like MacBooks
Just about anything with an HDMI output