We're getting more and more requests for replacement rubber feet for TiVos. On older machines, these seem to be just disintegrating completely.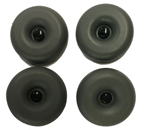 So we're selling replacements! These are BRAND NEW replacements that have never been installed on a TiVo. We include a brand new set of rivets as well, making the installation a breeze.
If you're looking for a set, see our TiVo Replacement Feet page on our site.