TiVo has announced the beta release of a website aimed specifically toward smart phones including the iPhone. In fact, the layout has been formatted perfectly for an iPhone. This is something I've been hoping for (see my TiVo mobile post back in September) for quite some time.
I haven't had a ton of time to try the site out, but the basic functionality I like on the website is there. I can program my TiVo from afar, and fast. In fact, it's faster, easier, and more direct than the regular website. So, for now, I'll be using my phone to catch shows that I forgot to set when I was home.
One thing TiVo: how about a nice icon for my iPhone home screen? I can even think of a logo you can use . . .
Here's the way the current button comes up: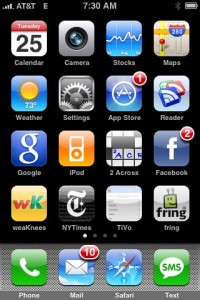 It's pretty bland. But, hey, if the functionality is there, I'll use it.