Have you ever needed your remote to work in a place where you don't have line of sight? Most remotes work over infrared – or IR – frequencies which require the remote to be able to have a direct line of uninterrupted airspace to the component. But radio frequency remotes – or RF – can work through walls, around doors, even through floors. And, of course, they can get through glass doors to rack systems.
So what do you do if you have an IR remote, but need the flexibility of an RF remote? Say you want to hide your TiVo so it's not visible, since you never really use the unit itself anyway, you just always use the remote. We sell an IR to RF converter that works pretty flawlessly, and is simple to set up and install.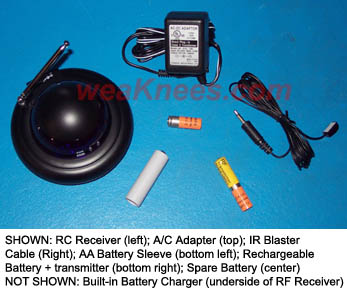 Most people don't believe how it works – and how well it works – but it really does do what it promises. And, amazingly, we get almost no support phone calls for this product, since it just does what it intends.
Here's how simple it is: you replace a battery in your remote with the special battery/transmitter. Then, you place the receiver (black round object on the left, in the picture) near the front of the component. Finally, you plug that in, and run the IR wire from it to the component itself. That's it. Then take your remote to another room and change the channel!
One important compatibility note here: this only works with remotes that use either AA or AAA batteries.
Today, at WeaKnees, we're doing a special where this package is $10 off, so it's $39 shipped. Use coupon code RF at checkout to get your discount.
See full details of our IR to RF Remote Converter.