For several days, due to a great deal from our distributor, we had been selling 250 GB drives for certain models in certain configurations at the price of 160 GB drives – $119. We've now taken this special off of our home page, and replaced it with the amazing $99 deal for the Humax T2500.
But we do still have some of the 250s around, so we're making this special offer to our blog readers only: get a 250 for the price of a 160 through Sunday, June 22, 2008. We'll try to make it as easy as possible to take advantage of this deal, so just read the details:
-Order the 160 GB Replace kit for your model so you are charged the right price. Then, use the code below.
-This ONLY applies to replace kits and not add kits. Next, since this special deal is only on PATA drives, this does NOT apply to the TiVo HD or TiVo Series3 upgrades.
-This isn't a coupon code, but a code you enter in the "Customer Notes" area below the "Credit Card" information on the final checkout screen. The code is "WKBLOG250" and here's how it should look: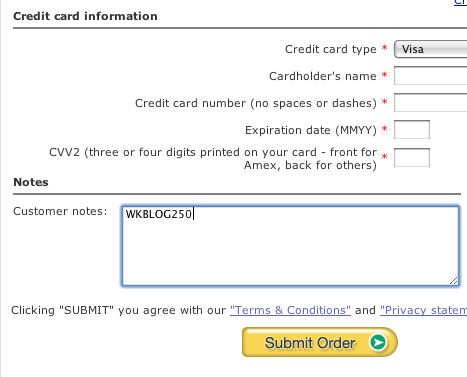 -Finally – here's a way to save even more: Use Google Checkout to get a further $10 off – so $109 for a 250 GB replace kit! If you use Google Checkout, you never see the field above. In this case, just send an email after you place your order to [email protected] with your Google order number as the subject and the code "WKBLOG250" in the body.