Up there with the most horrible ideas of all time, I came across this at BestBuy: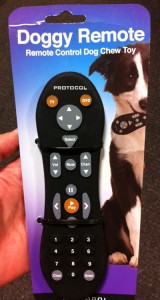 It's a way of saying to your dog "chew on things that look like this." I guess, as a seller of replacement TiVo remotes, maybe I should be happy that this helps increase demand through destruction by canines. Maybe next, someone will start making those house-training pads in shapes that look like bed pillows. Or chew toys that look like your favorite expensive shoes.
Further, given the design similarity to the iconic TiVo peanut remotes, I'm surprised TiVo hasn't clamped down on this for legal reasons. You can bet if this were an iPhone chew toy, Apple would have been all over it. And BestBuy would never have touched it.
On the flip-side, it's good to know that BestBuy is appealing to dogs these days. GapDog is next.