Well, it finally happened. DirecTV enabled dual live buffers on the DirecTV HD DVR. So that's the HR20, HR21, HR22, HR23, and HR21 Pro. If you've got the latest software update, you can now have a buffer of two shows at once, without any fancy remote gymnastics.
If you've gotten the latest OS update, you'll be seeing this screen soon: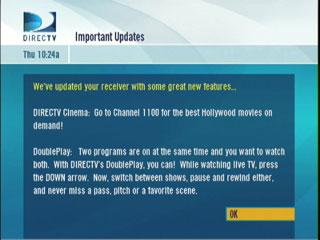 Then, when you're watching your first show, you just press the Down arrow, and you'll see this screen:
Of course, I chose a bad program in the background there, because these results DON'T last. For whatever reason, DirecTV implemented this in a way that it dies on its own after two hours. So the next time you sit down at your TV, you've got to re-enable the feature. That's as simple as just pressing the Down arrow and then OK again, but it seems silly, and it means that if you're recording two shows at once, you don't really get live buffers.
Here's the screen with those details: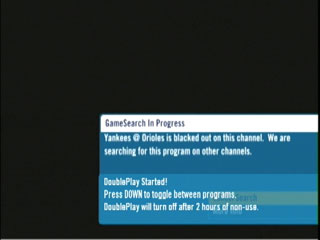 Anyway, even with a bit of a hitch, it's still a great feature.