Yes, we get the question all the time: How can I see how much space is left on my TiVo?
It's a good question. Since we're in the capacity-upgrade field, our customers often want to know how far they are from filling up their unit.
The problem is, TiVo has no official way to tell how much space is left. Why is that, you may ask? We surmise that TiVo thinks it would cause more problems than it would solve. There really is just no easy way to express how much recording space is left, for a few reasons. On standalone TiVos, you have four different recording qualities, so TiVo would have to pick one, and it may not be the one you'd choose. On DirecTV combo units, different shows are compressed at different ratios, so a number could only be very general. Further, on each of these units, deleting a one-hour show may not make the reported number rise by one hour, further adding to the confusion.
But there is a way to get a rough, but usable, gauge about how much space there is left on your unit: TiVo Suggestions.
TiVo Suggestions is a feature where, based on your recording history, your Season Passes, and your thumbs settings, the TiVo will try to determine what shows you like. And it can auto-record them, which is the key.
When it is set to auto-record TiVo Suggestions, the unit will fill up all remaining space with suggested shows. This may take a few days. But once the Suggestions list is full, those shows are the first to delete as other shows that you've picked to record take priority on the drive.
So by viewing the list of TiVo Suggestions, and since they take all otherwise 'available' space, you can gauge how much space you have left.
Here's a screenshot of one TiVo with some suggestions recorded: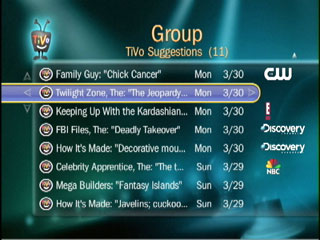 As the list grows from 11 shows, more space is available. If it shrinks to single digits, then your shows may be in jeopardy of being deleted. If it's down to one or two, watch out!
To turn on auto-record of TiVo Suggestions, you'll find the option on most units here:
Messages & Settings -> Settings -> Recordings -> Suggestions
Just set it to auto-record, wait a few days for the queue to fill, and you're all set!