We're now selling upgrade kits for the Sony Playstation 3. See our PS3 Upgrade Kit page. We can put up to 320 GB of space in a Playstation 3, enabling users to save more downloaded content! Now that Sony has announced the ability to download content online, the relatively small hard drives in PS3s will get filled fast. We've got a way out!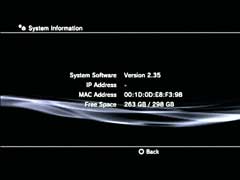 We have two paths to the PS3 upgrade, one being D-I-Y and one where customers send us the unit for our complete service.
The first option for do-it-yourselfers includes the replacement hard drive, pre-loaded USB flash drive, tools, and complete instructions with pictures. The process takes less than an hour, and most of the time involves using the PS3 controller on-screen. With our pre-loaded flash drive, we've overcome the problems that many do-it-yourselfers run into, and customers' units will be updated to the newest version of the PS3 software in the process. And if you've installed a WeaKnees kit in your DVR before, you know the benefit of our instructions and phone and online support through email, and through our new Playstation 3 upgrade forum area.
Our second option is a complete service where customers send in their Playstation 3 console. We then backup all the data, install our new drive, and restore the data to the replacement drive. So this way, all data that existed on the game console before is still intact afterward. It's totally seamless.
Full information is on our Playstation 3 Upgrade page.